How Zendesk boosts productivity and engagement with Rewatch
Connectivity and efficiency are two of the top priorities for Zendesk's global engineering organization. See they have achieved both with Rewatch.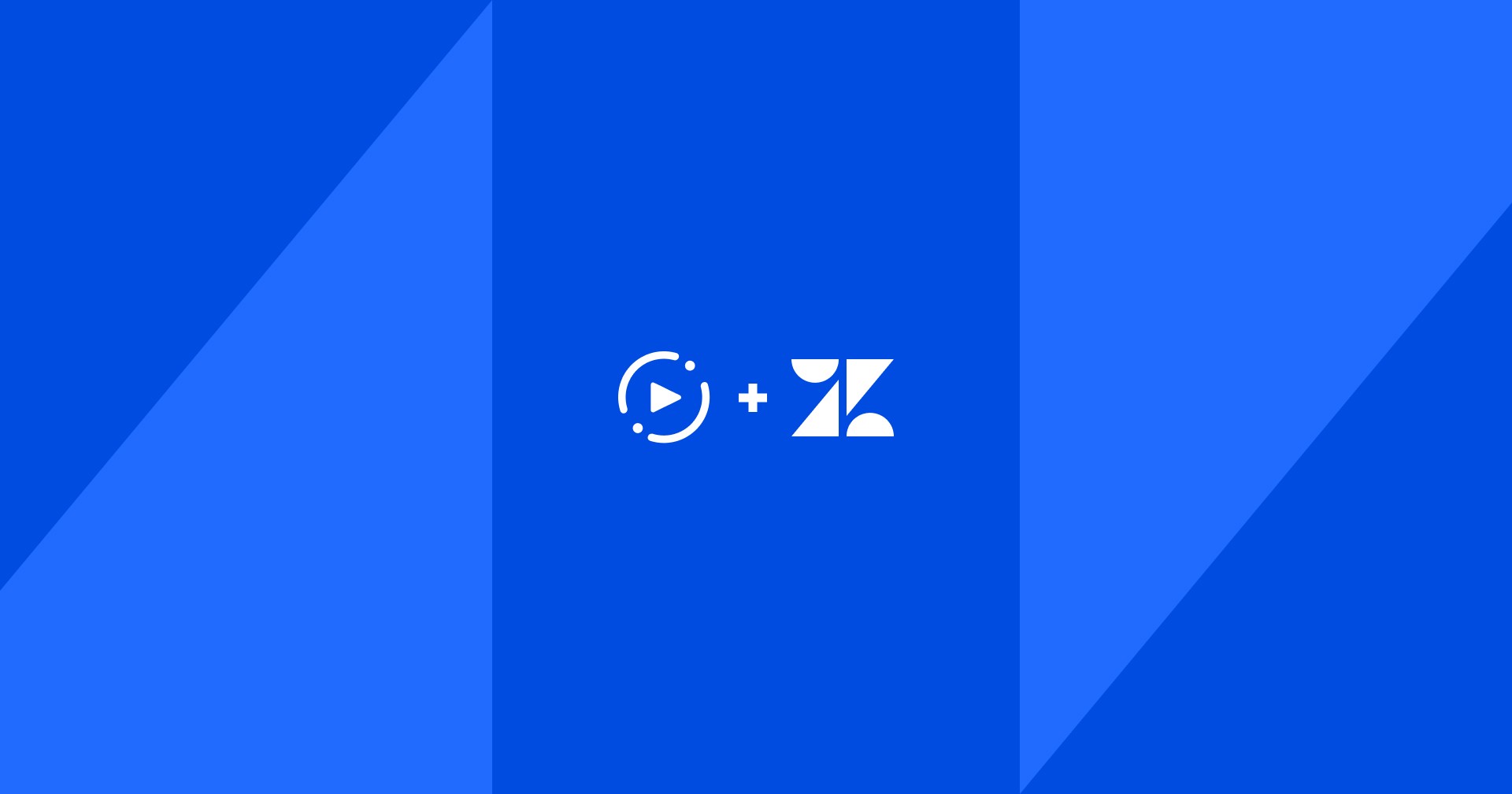 100%
adoption in engineering and product teams
3.6k
total videos shared on Rewatch
26.5k
all-time video plays on Rewatch
85%
less time spent managing team videos
---
Since its founding in 2007, Zendesk has been revolutionizing the way businesses support their customers. It all began with a simple but ambitious promise: to bring a sense of calm to the often chaotic world of customer service. And it's a promise they've delivered on for more than 100,000 customers.
Behind the scenes, building Zendesk's industry-leading customer experience software are more than 1,800 engineers, product managers, designers, and researchers. To keep up with the organization's rapid pace of product innovation and development, Zendesk has dedicated itself to improving how its teams build software, not just what they build.
Helping lead the charge at Zendesk are Kelvin Pham, Director of Engineering Practices and Jill de Leon, Program Lead, Engineering Organizational Programs. We are focused on enabling connectivity, efficiency, and scale across the engineering organization," explains Kelvin. "Put simply, we champion operational excellence," adds Jill.
With the now permanent shift to remote work, Kelvin and his team have had to reimagine engineering practices for a digital-first way of working. "As an organization, we've had to ask ourselves, 'How can we get better at asynchronous communication?'" shares Kelvin. "And, when it came to video, it was clear we needed a better way to share programmatic meetings, like our engineering all-hands and annual tech summit, with the global team."
With Rewatch, Zendesk has been able to more effectively connect its global engineering organization and invest in a truly digital-first culture, all with less time and effort.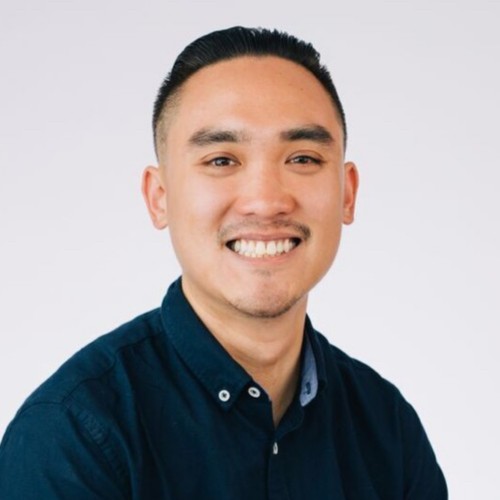 Connecting a global engineering organization
As Zendesk's engineering organization has grown, spanning across more countries and more time zones, it's naturally become harder to get everyone on the same page, let alone in the same room. And distributing information after the fact can feel like a herculean task.
Take engineering all-hands, for example. "We always hold all-hands twice, once for our team in the Americas and Europe and once for our team in Asia-Pacific," shares Kelvin. "Before Rewatch, we'd have to worry about people not being able to make it and feel like they were missing out while waiting for us to download, edit, transcribe, and then finally share the recording."
"Our engineers really enjoy using Rewatch because it lets them catch up whenever they want to. It's no longer about having to be in a specific time zone."
After bringing on Rewatch, not only have Kelvin and his team been able to share all-hands recordings automatically and almost instantly, they've seen engagement go up, too. "Our engineers really enjoy using Rewatch because it lets them catch up whenever they want to. It's no longer about having to be in a specific time zone," says Kelvin. "You can see it in the engagement analytics, in terms of video plays and watch time."
So, when it came time for Zendesk's Tech Summit, their annual gathering of all 1,800+ members of their product development organization, the decision to use Rewatch was a no-brainer. "These keynotes and technical talks are important for strategic alignment and become heavily referenced material. We had an internal goal to increase engagement," explains Kelvin, "and we knew this was the perfect use case for Rewatch."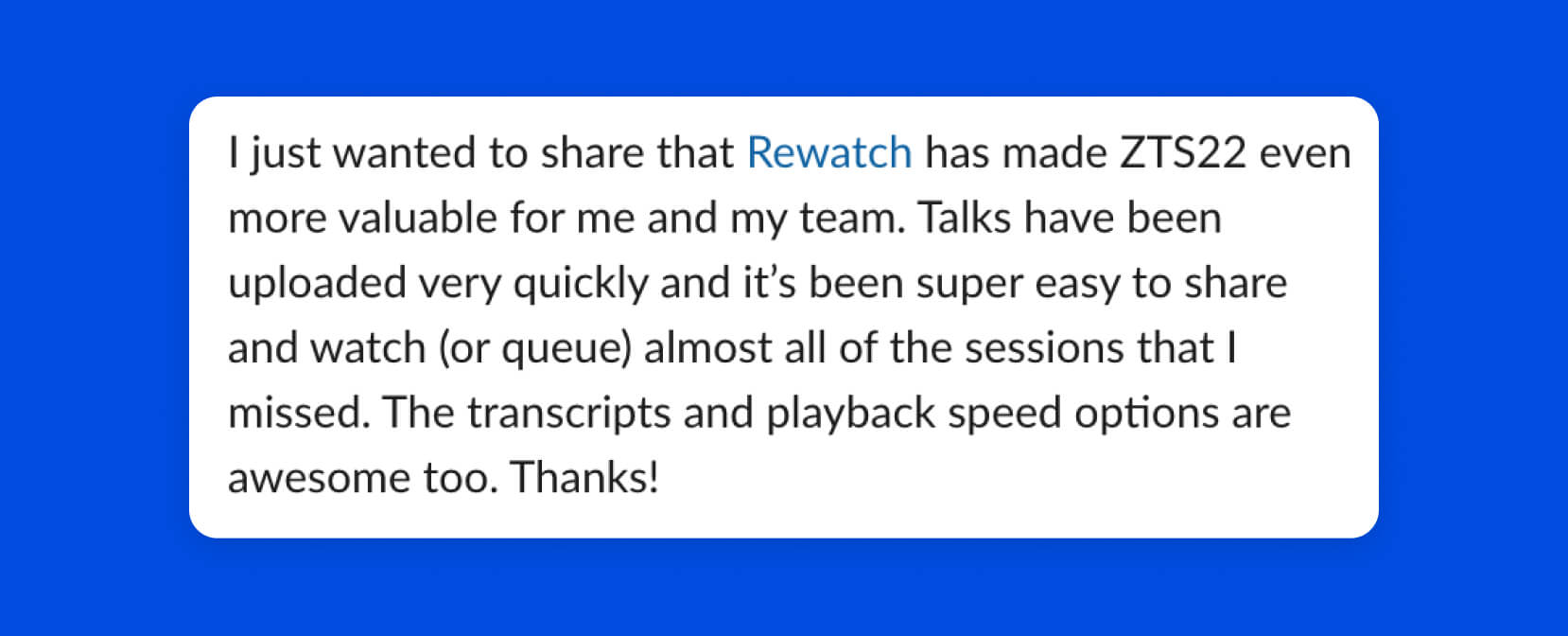 That's exactly what Kelvin heard in the feedback from this year's Tech Summit. "Rewatch has become part of our vocabulary in the engineering organization. Now people just say, 'I'll watch it on Rewatch'," shares Kelvin. "Rewatch was instrumental to the success of the Tech Summit and drove the kind of meaningful engagement we were looking for."
Investing in a digital-first engineering culture
As a digital first company, Zendesk is committed to fostering an empowering workplace for all employees, wherever they are in the world. For Kelvin, this has meant finding new ways to help the engineering organization work together even when everyone's apart.
"Asynchronous communication has been in Zendesk's DNA for a long time, and it's only become more important with our move to being digital-first," says Kelvin. "Rewatch plays a key role in the new playbook we're creating to work better, together, asynchronously."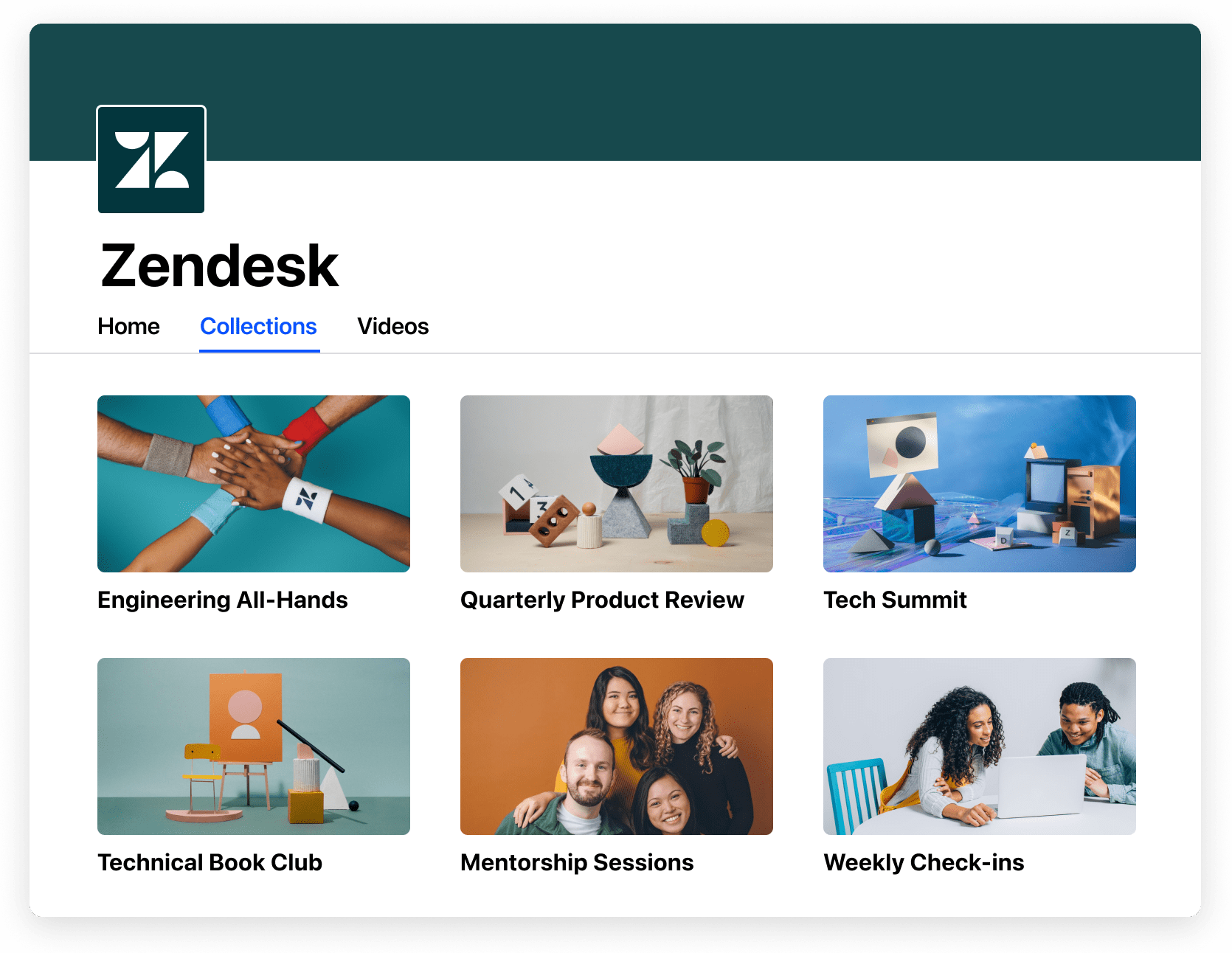 One way has been by enabling teammates to "be in the room" without having to join the meeting as it's happening. "We're heavy users of Zoom chat and having Rewatch capture these side conversations really lets people feel like they were part of the meeting, even if they're catching up on it hours or weeks later," explains Jill.
With a global engineering organization, Kelvin and his team are also conscious of making sure their asynchronous communication is truly inclusive. "We have non-native English speakers in our organization, and it's critically important to us that they're able to have the same experience as everyone else," shares Kelvin. "With Rewatch, they can translate the meeting's transcript and closed captions for the video on demand."
"Rewatch gives our global engineering organization more opportunities to connect with each other. It makes a huge difference in our all-remote world."
Rewatch has become an extricable part of Zendesk's cultural fabric. Shortly after bringing on Rewatch, the team started using Rewatch for professional and cultural development, for example, by sharing technical book club and mentorship program meetings. "These opportunities for people to connect make a huge difference in our remote-first world."
Making time for meaningful work by minimizing busy work
Before Rewatch, the process of sharing meeting recordings was slow and painful. They had to be manually downloaded, edited, transcribed and distributed. The end result was only a so-so experience for employees.
"It was a long and arduous process to get videos from Zoom, trimmed in Quicktime, archived into Confluence and then posted in Slack," reflects Jill. "And even after we went through all of that, if anyone wanted to watch the video, they'd still have to find the Confluence page, download the video, and separately open the transcript."
Between weekly meetings, monthly check-ins, and quarterly reviews, the time and effort required to manage these videos quickly added up. Engineers were looking at precious minutes and hours lost to searching for information. "There were time savings to be had everywhere we looked."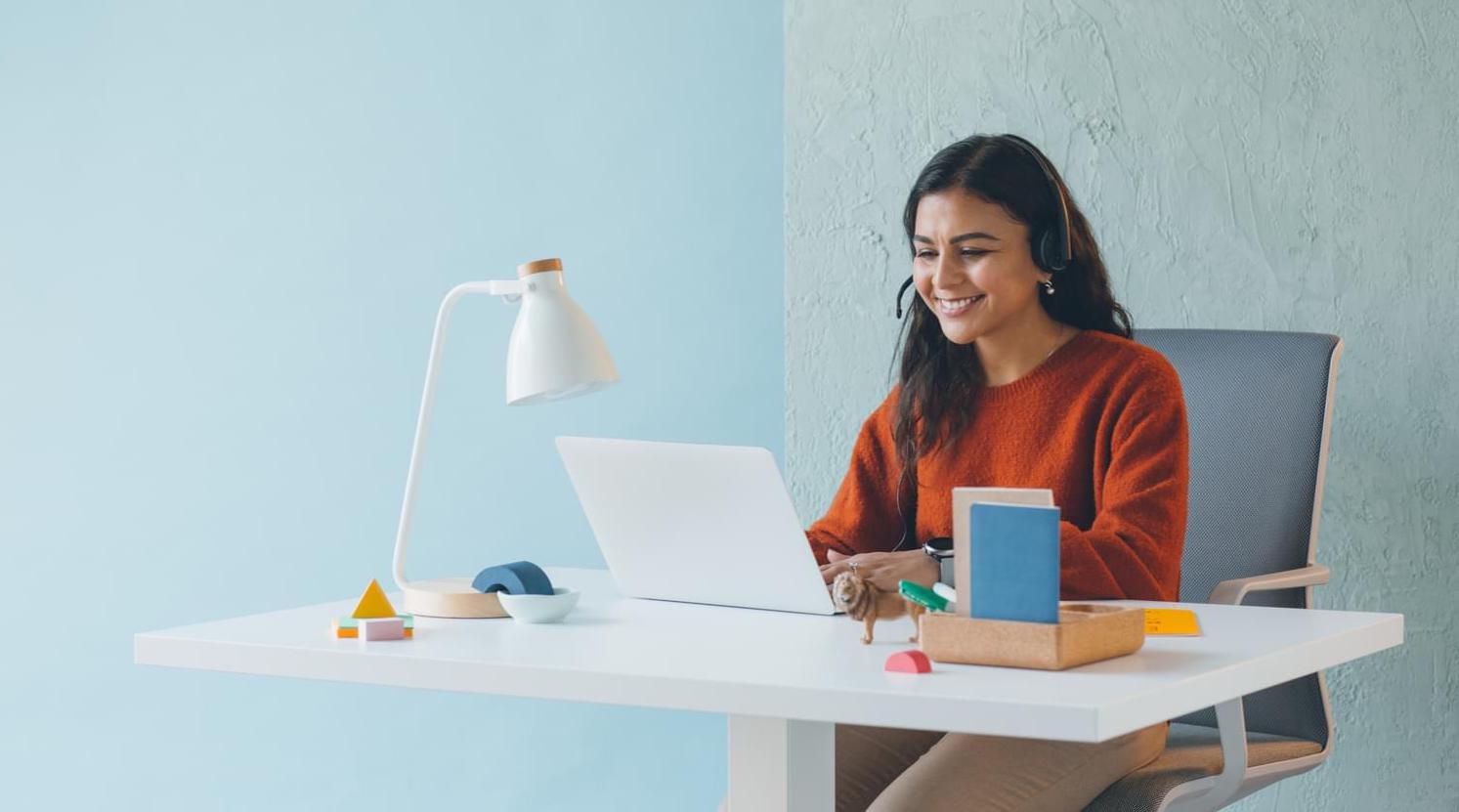 The difference since bringing on Rewatch is night and day. For one, managing videos is a breeze. "We're no longer using three, four, five tools to share one meeting. We can trim, transcribe, and share videos, all in Rewatch," shares Kelvin. "That's hours per video we can now reinvest in running our engineering programs."
Rewatch has helped the engineering organization be more productive. Whether engineers need to catch up on quarterly product updates or missed mentorship sessions, they can quickly jump to the moments that matter to them. "Having chapters in Rewatch, means folks can skip from demo to demo," explains Kelvin. "It's so much easier for them to get the information they need and, overall, a better experience."
"Rewatch has delivered in two important ways: time savings for our engineering practices team and a more productive experience for the rest of the engineering organization."
Keeping everyone in sync, while async, with Rewatch
With ambitious plans for the future, Zendesk's global engineering organization needs tools that will not only help them work better, across time zones and vast distances, but stand the test of time. That's exactly what they've found with Rewatch.
"Everyone was on board from the get-go, and since we brought Rewatch on, we've only found more ways to use Rewatch to improve our asynchronous communication and work more effectively. It's really taken off within the organization," shares Kelvin.
For Zendesk, being digital first and using Rewatch are synonymous.
Save money and time,
today, with Rewatch
Chat with our sales team to receive a free, personal Rewatch demo along with a custom tailored solution.
Schedule a demo
By submitting this form you agree to Rewatch's Privacy Policy and you consent to receive marketing communications from Rewatch.
Don't miss the billion dollar idea
hidden inside
your team